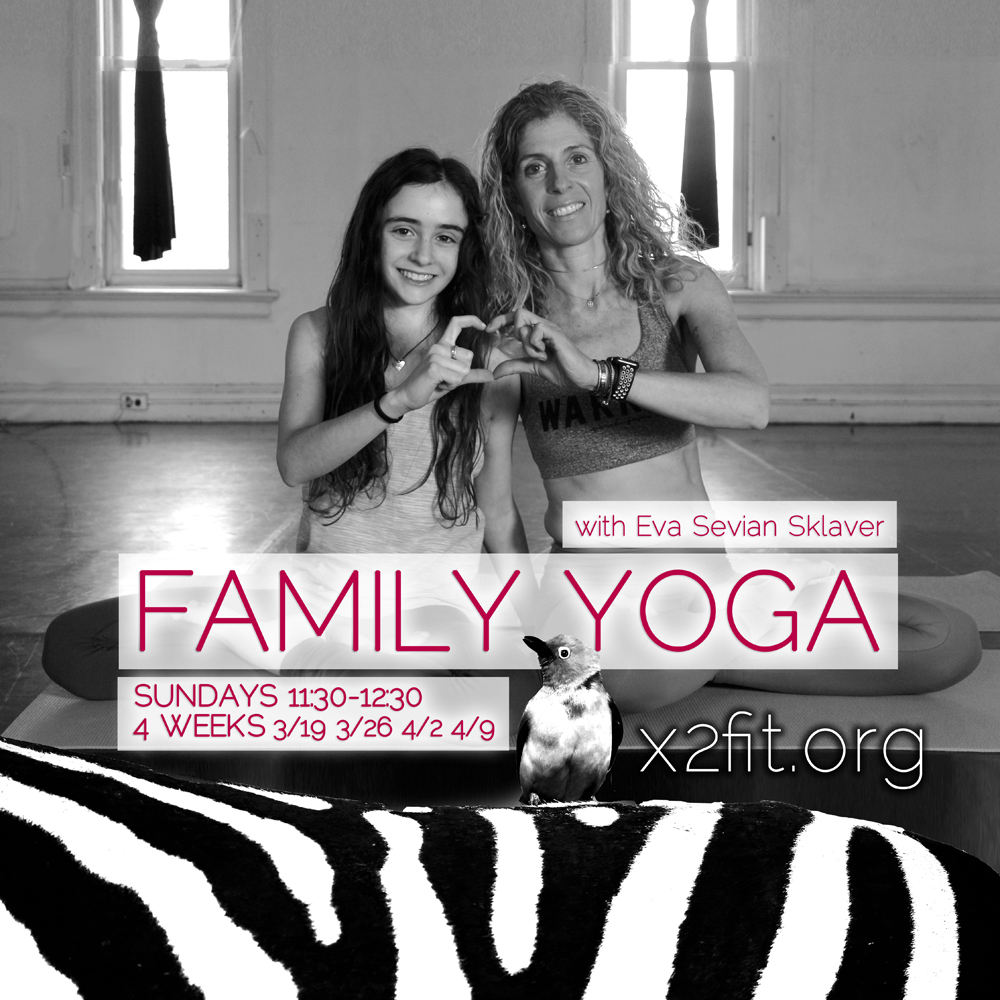 Designed for family members ages 11+, Family Yoga allows time for parents/caretakers and their children to bond while sharing the practice of yoga. This class is designed to provide a space for all ages and levels to share their love for one another while practicing yoga in a safe, fun, and no-judgement environment.

Originating from the Ashtanga Yoga Practice, this class offers a creative yoga sequence that will meet each yoga student where they are. Vinyasa Yoga is flow, moving gracefully from one pose to the next, and connecting breath and movement. Beginning by stretching and warming the body up, and moving in a safe way. Then strengthening and stretching one's body, growing awareness of the complexity of movement, and connecting on a deeper level of what will prevent injury, and grow your body and ultimately your life in a positive direction.
Instructor bio:
Eva grew up in Boulder, Colorado, loving the fresh air and Rocky Mountains. She grew up dancing, first: Ballet and then was fortunate enough to be a part of the the early years of Modern Dance. As an early teenager she began to run competitively and left the dance world for the running trails of cross country running. After many years of running, and multiple injuries, training for marathons and half marathons, she came to yoga when she was pregnant with her first of three children, 16 years ago, and fell in love with yoga.
Eva has continued on her yoga journey for the balance that it has brought to being a mom, informing preventing injury so that she could continue to move in a healthy, happy way, and sheer joy of loving the practice of yoga and the constant growth yoga offers on multiple levels. She got her 200 yoga certification at South Boston Yoga and is now working towards her 500 hour yoga certification at YogaWorks, and has been regularly teaching for a few years.Eva is a former Special Education teacher and brings to yoga patience, understanding, and a deep appreciation for all that walk into the room wanting to learn to strengthen, and grow on their yoga mat and walk off with that depth, growth, and deeper understanding that yoga had brought to their lives, and into their world.
In addition to practicing and teaching yoga, Eva is also an artist. She have dabbled in many art forms, painting, drawing, small metal and ceramics. She has designed and made jewelry for many years and sold my work in 18 stores and galleries in the Boston area for about a decade.